New family center to help address struggles of Pacolet community in Spartanburg County
By Chris Lavender clavender@postandcourier.com Chris Lavender Reporter – Spartanburg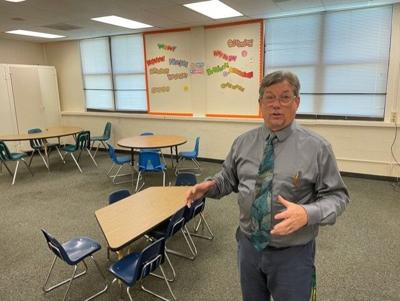 PACOLET — Residents living in rural areas of eastern Spartanburg County will have more accessibility to programs to improve their quality of life once the new Benjamin E. Mays Family Center opens in September.
Spartanburg School District 3 donated the former Middle School of Pacolet building on Sunny Acres Road for the new center. The school closed in June 2021 after the school district consolidated Cowpens Middle School and Middle School of Pacolet.
Pacolet, a town of about 2,500 residents, has struggled economically in recent years. It once relied on the textile industry to support jobs. With little industry and few jobs, the town's poverty rate is 21.2 percent, above the national average of 13.6 percent. The new center aims to help reverse these trends and offer renewed hope by providing access to services and programs offered through local non-profits.
"We are trying to build a resource center with programming and bring them to Pacolet so they don't have to travel to Spartanburg," Benjamin E. Mays Family Center Executive Director Jerry Rice said. "I have been here the last four months working on getting to know people and develop relationships."
Rice said the center will open Sept. 7 with Favor Upstate providing support services for individuals and families affected by substance abuse disorders. Over the next several months, SC Works will begin providing job search and training opportunities at the center. ReGenesis Health Center, Hope Center for Children and First Steps Spartanburg will also partner with the center to offer services.
"We have some agreements already in place," Rice said. "There will be other programs run out of the center. People who live in small rural communities have to drive to Spartanburg for everything. We are working to find an easier way for them to get resources so they can can become self sufficient."
Spartanburg School District 3 donated 25 computers for the center, which will include conference space for meetings. The 50,000-square-foot building has two hallways connected to a space formerly used as a media center. Rice said the building remains in good shape and is scheduled to be cleaned in September. The former cafeteria space could be used to host meetings as well. Rice is also working with local churches to make people aware the center will be opening.
"The reception is people have been really positive," Rice said. "Trying to get the word out in a small community can be complicated and churches are going to be key in helping us do that."
Rice said the center could be used as a business incubator to encourage entrepreneurships. He noted that Pacolet and the surrounding rural communities continue to struggle since there are few jobs and barriers for some to transportation, however, programs at the center provide new opportunities.
"The old mill town has struggled over the years because everything was provided to them through the mill," Rice said. "They need to reach out and develop their own businesses and we can help them do that."
The Spartanburg Academic Movement has served as a consultant and lead in the center's grant writing process to secure more funding for programs. The center plans to use grant funding to offer a four-day program for 3K students. The Mary Black Foundation is also involved in working to secure funding for programs at the center.
"We are really excited about what they are doing in Pacolet," said Russell Booker, Spartanburg Academic Movement executive director, said. "They have done a really good job coming together in a strategic and thoughtful way with very little resources. Our role has been lead grant writer and support them in their overall work. What they will do is provide services not easily accessible in rural communities."
Benjamin E. Mays, a South Carolina native born in Greenwood County, was president of Morehouse College for 27 years and a mentor of Dr. Martin Luther King Jr., who attended Morehouse. The Benjamin E. Mays Consolidated School in Pacolet was the first public school in the nation named after him.
Rice said the new center will include space to showcase Mays' life and contributions he made to the Civil Rights movement. A portrait of Mays hangs on a wall near the building's front entrance. Rice said the new center will bear Mays' name to honor his legacy and commitment to education throughout his life.
Middle School of Pacolet, formerly named the B.E. Mays Consolidated School, was built in 1953 to serve African American students. The name was changed to Pacolet Middle School in 1970 and later renamed Middle School of Pacolet in 1998 and Original Benjamin E. Mays School was added to the front of the building.
https://www.postandcourier.com/spartanburg/news/new-family-center-to-help-address-struggles-of-pacolet-community-in-spartanburg-county/article_0ef2ea3c-434f-11ee-a267-4be18b359ba8.html